Meet the Doctor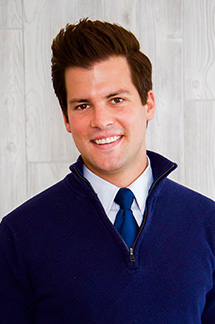 Dr. Alexander Hutnik
Dr. Alexander Hutnik was raised in Orland Park where he attended Carl Sandburg High School. He began his career in dentistry at the age of 18 when he went to work as a dental assistant in Frankfort, IL. Early on he acquired a passion for creating an inviting, comfortable atmosphere in which patient-centered oral health care could be delivered, and thus devoted the remainder of his education to this field of study.
Dr. Hutnik graduated summa cum laude from the University of Illinois-Chicago and went on to Southern Illinois University School of Dental Medicine to complete his training. During his tenure at both institutions he worked as a tutor to help fellow students struggling in the sciences as well as operative dentistry and prosthodontics. Upon his graduation from SIU he was awarded The American Academy of Oral and Maxillofacial Radiology for Greatest Interest and Accomplishment and The Academy of Operative Dentistry Award for Outstanding Achievement.
In his spare time, Dr. Hutnik enjoys painting, reading, watching movies, traveling, and spending time with his family and friends.